Chocolate is one of the UK's favourite foods. The farmers growing cocoa however, do not reap the rewards of its popularity, with many experiencing extreme poverty. Together with farmers and businesses, Fairtrade is working for a fairer future..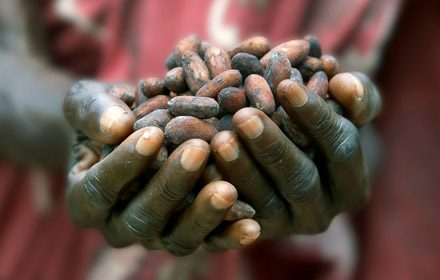 Millions of cocoa farmers work extremely hard, under gruelling conditions, yet do not earn a living income. On average, cocoa farmers earn just 6% of the final value of a bar of chocolate.
When terms of trade don't work for cocoa farmers it exacerbates poverty and contributes to persistent problems like discrimination, exploitation and deforestation, which threaten the future of cocoa farming communities and the future of cocoa itself.
Fairtrade sets social, economic and environmental standards for both companies and farmers and workers. For companies that includes paying a fair price for the produce, for farmers it includes workers' rights and protection of the environment.
Cocoa farmers are already experiencing the effects of the climate crisis, through unpredictable weather patterns and new crop-threatening diseases and pests. In addition, due to the poor returns for significant labour, the younger generation are choosing careers outside of farming, which also threatens the future of cocoa.
Only Fairtrade focuses on sustainable pricing, with the safety net of the Fairtrade Minimum Price and the additional Fairtrade Premium, going further than any other certification label.
The Fairtrade standards and the Fairtrade Premium are proven to limit the risks caused by the volatility of the market, with farmers more able to develop their businesses and invest in their communities.
What is Fairtrade doing in the UK?
Fairtrade is working hard to push the chocolate sector to address the challenges that threaten the long term sustainability of cocoa.
Fairtrade is supporting cocoa farming co-operatives in their push for living incomes and better terms of trade for their cocoa farmers.
Since 2019, our Living Income campaign has set out to put living incomes on the public and policy agenda, and to shine a light on the inequalities faced by women cocoa farmers.
In May 2017 the Co-op became the first UK retailer to source all its cocoa on Fairtrade terms, so all of Co-op's own-brand products which contain cocoa – from the chocolate sprinkles on their doughnuts to the chocolate chips in their cookies – are benefitting Fairtrade cocoa farmers. If you fancy drinking your chocolate, the Co-op own brand drinking chocolate is also Fairtrade.